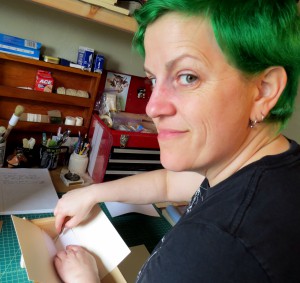 Welcome!
The Book Roadie is your one-stop-shop for all things book! I'm Ealasaid Haas, and I'd love to help you with…
I sell my hand-bound blank journals and notebooks both in person at events and in my online shop. I'm based in Portland, OR, but am happy to offer estimates and answer questions over email.
Every Saturday from 1pm-2pm Pacific, I do an Instagram livestream from my workbench! To watch, open the Instagram app and go to my profile (@thebookroadie). Tap my icon to come watch the stream and see what I'm working on.
For a quick look at what's involved in handbinding a blank book, check out this time-lapse: