I've no doubt I'm not the only one who loves looking at photos of beautiful libraries.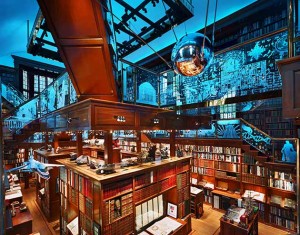 Wired.com gives us a little tour of Jay Walker's Library, which occupies more space than some houses.
Librophiliac's Compendium of Beautiful Libraries has some real lookers, including the above. I'm a sucker for those extra-tall shelves with little walkways on them.
Oddee gives us 20 of the World's Most Beautiful Libraries. The spiral staircase in this one makes me drool.
Campus Grotto is more specialized, and gives us 25 of the Most Beautiful College Libraries. Georgetown's has so much natural light, I almost wish I'd gone to school there.
However, I went to Occidental College, which has a spiffy library. As a loyal alumnus, I have to give it props. The stacks are actually my favorite part of the library, but I couldn't find a photo of them. Now I have a mission for next time I'm in LA!