I just got back from a week in Portland. It was awesome. (You know you wanna see my vacation pix.)
As usual, it involved multiple trips to Powell's. Also, my first ever purchases from the Rare Book Room and the locked case in the Gold Room (which is Fantasy/Horror/Sci-Fi/Mystery)! SO exciting.
I simply cannot articulate my adoration for Powell's City of Books (there are several satellite stores, but the CoB is the main one, and the one most folks, including me, mean when they refer to Powell's). It's enormous. It has used and new books shelved together so you can see what your options are. It has all kinds of weird and rare books, and a really nifty cafe where you can take books you're thinking about buying and look them over while you sip an Italian soda or nibble a pannini. Bliss.
Here's my haul for this year:
And a shot of my lovely first editions' covers: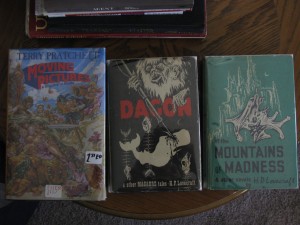 This trip is why I saved my spare change (and a few bucks here and there) all year long. Getting $100 in a raffly thing at work didn't hurt, either. 🙂
Now comes the fun part: reading them all.